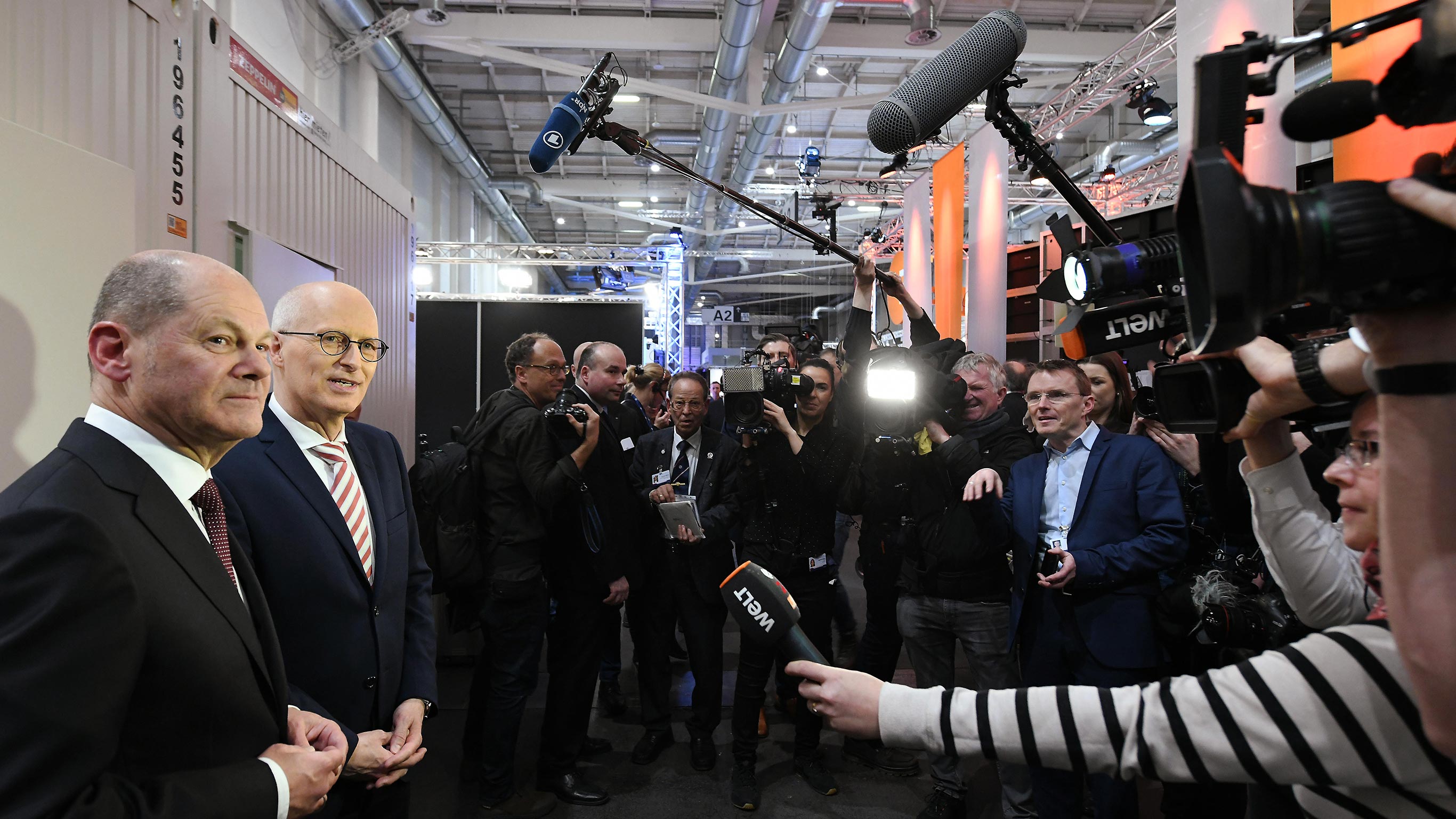 Outlook // City Council Election 2020
City Council Election 2020: A Full House in the Media Center on the Hamburg Exhibition Grounds
The modern and flexible premises of Hamburg Messe und Congress GmbH (HMC) make it possible time and again to realize multiple events simultaneously, as was the case from February 21 to 23, 2020. Four events were taking place at the same time at the Hamburg exhibition grounds: three heavily visited public exhibitions – Hamburger Motorrad Tage, Hamburger Tattoo Tage, and BABYWELT – and the media center for the Hamburg City Council elections made its home at the exhibition grounds. All major television and radio stations, as well as representatives of press and online media, were on hand to report on the major political results in the city of Hamburg. Mobile studios including cutting-edge technology were set up to make it all possible. Additionally, workspaces, printers, and copiers were made available along with TV editing and radio booths for the electronic media. Refreshments were also provided.
Nick Plasa, Hall Inspector
"It was really impressive the way that entire TV studios were stamped out of the floor of hall A2 in the media center. It's always exciting to see what can be made of halls like that."
The press office of the Senate had issued press credentials to around 1,250 people, among them not only journalists and media representatives of all kinds, but also politicians, the cleaning crew, employees of HMC, and security service personnel.
At 6 p.m., the victor in the election had been determined: according to the first extrapolation, top SPD candidate Dr. Peter Tschentscher was able to win the most votes. The evening of the election in the media center at the Hamburg exhibition grounds went on until shortly before midnight, when certain election celebrations were already in full swing.
An interview with the top candidates of the Hamburg City Council Election 2020.
© HMC, Michael Zapf
The exhibition hall A2 as a mobile broadcasting studio from above.
© HMC, Michael Zapf