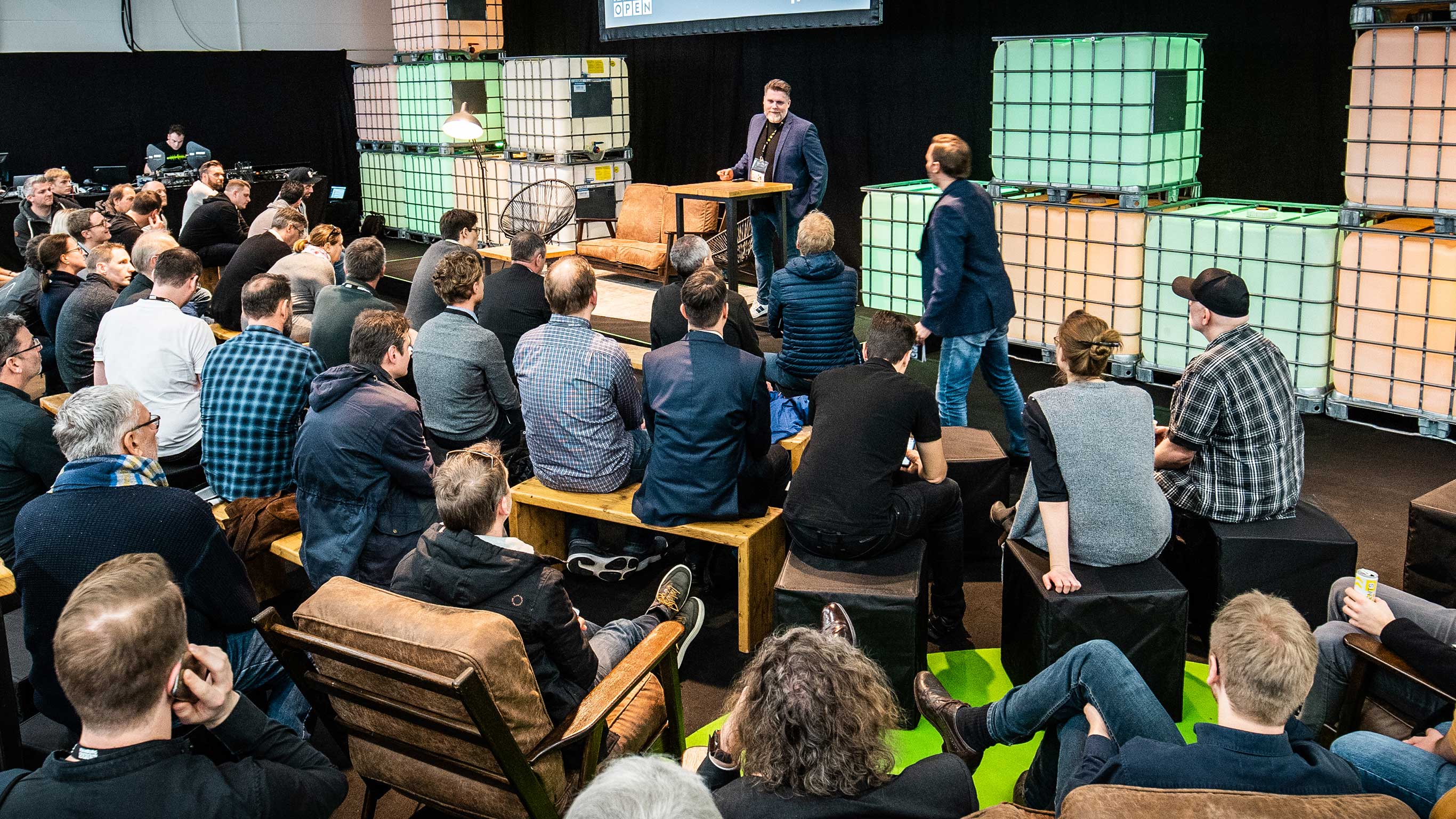 Insight // Premieres
HAMBURG OPEN: Industry Meeting for Media Technology
The significantly expanded innovation and networking event was to the liking of exhibitors and visitors from the industry.
More Exhibitors, More Programming
Pioneering presentations by exhibitors, exciting lectures and lively panel discussions, time for relaxed conversations, a good atmosphere among exhibitors and visitors: the HAMBURG OPEN, where technology experts and creatives from the broadcast and media technology sectors come together, made its successful debut in January 2020.
Over the past few years, the event has become well established in the broadcast and media technology sector under the organization of Studio Hamburg MCI. Since 2020, HMC has held the HAMBURG OPEN event in its halls in partnership with Studio Hamburg MCI. At the first iteration held in the Hamburg exhibition halls, more than 130 exhibitors – an increase of 30 percent – presented their innovations and current industry trends to the more than 1,500 visitors.
Meike Strauch, Project Manager Business Development
"The special thing about the HAMBURG OPEN is the consistently relaxed and casual atmosphere among the exhibitors and visitors. Everyone was really into it! Some visitors even approached certain exhibitors five minutes before the end of the event just to have a chance to speak with them briefly while they were tearing down their stands."
In addition to the larger exhibition space, there was also a comprehensive accompanying program: in total, over 22 hours of content were offered to the visitors. For the first time, the Recruitment Area provided a space for college students, recent graduates, and job seekers, who were given the opportunity to get to know potential employers through brief company pitches and to inform themselves about requirements of the professions. The Side Events were also a new component of the HAMBURG OPEN, which included a virtual-reality tour of the headquarters in HafenCity and a contingent of tickets made available for the multimedia experience in Panik City.
"Exhibitors and visitors alike were impressed with the unique mix of networking event, expo, and comprehensive lecture program. The HAMBURG OPEN is an industry meeting for media technology with a view to the future," says Max Below, Managing Director of Studio Hamburg MCI. The satisfaction of exhibitors is reflected in the registrations already received for the HAMBURG OPEN 2021: more than 50 percent of exhibition space is already booked for the next event, which will take place on January 20 and 21, 2021.
To the event website: hamburg-open.de/en