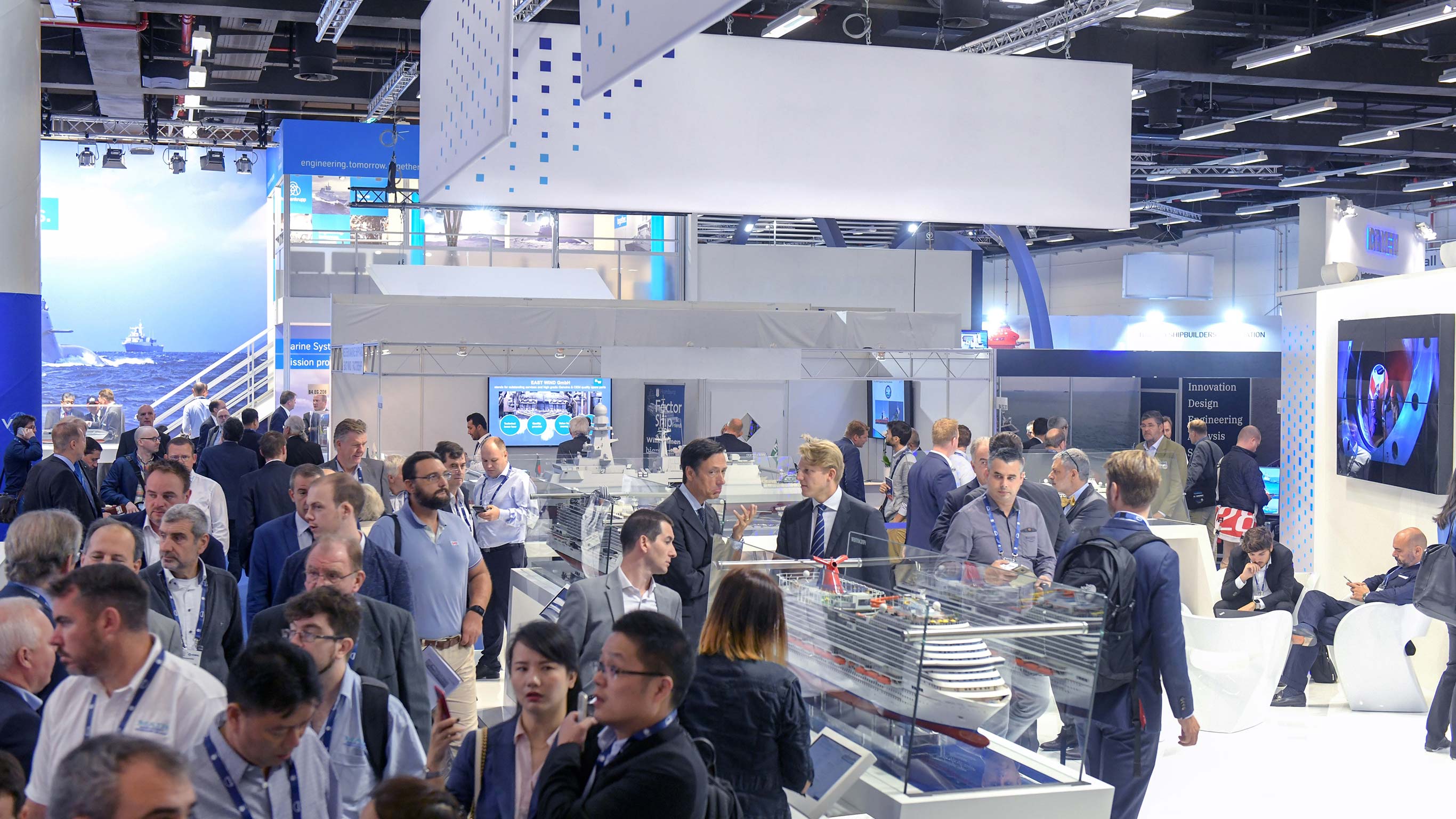 Insight // Premieres
MARINE INTERIORS: Europe's First Exhibition for Ship Interiors
With the exhibition, HMC has closed a gap in the industry.
From Flooring to Intelligent Locking Systems
For the premiere of MARINE INTERIORS Cruise & Ferry Global Expo, powered by SMM, more than 100 exhibitors from all sectors of the booming industry for ship interior design dropped anchor at the Hamburg exhibition grounds from September 11 to 13, 2019. The products presented ranged from flooring and lighting systems, furniture, and textiles to kitchen equipment and intelligent locking systems.
In the halls, the exhibitors met with around 2,800 high-caliber visitors, including architects and decision-makers from shipping companies, shipyards, and design firms. This new exhibition was accompanied by an international conference program featuring well-known speakers, with sessions dealing with topics such as brand identity and brand introduction. Additionally, participants spoke about the challenges brought about by security regulations. The Chinese Dialogue Sessions were intended to strengthen business relations between Europe and China in the cruise and Ro-Ro ferry-building industries.
Daniel Schmitt, Director Business Development & Market Research
"It was just a great experience to develop the new MARINE INTERIORS event together with colleagues from different departments, and then to successfully put it on the market. The energy and creativity that arose during this process were unbelievable!"
With this new format, HMC is addressing the needs of the cruise industry and, at the same time, rounding off its portfolio in this segment: in even-numbered years, the world-leading SMM exhibition offers a broad platform with its interior area and the cruise and ferry route; in odd-numbered years, MARINE INTERIORS, which runs parallel to the Seatrade Europe – Cruise & River Cruise Convention, will set trends in terms of interior design. The great reception of visitors and exhibitors after the exhibitions premiere shows that this was the right decision. The successful premiere of MARINE INTERIORS also underscores the pioneering role that Hamburg Messe und Congress GmbH plays in the maritime segment as an SMM event organizer. The next iteration of MARINE INTERIORS will be held on September 8 to 10, 2021.
To the event website: marineinteriors-expo.com